BARBRA STREISAND - THE MUSIC... THE MEM'RIES... THE MAGIC... TOUR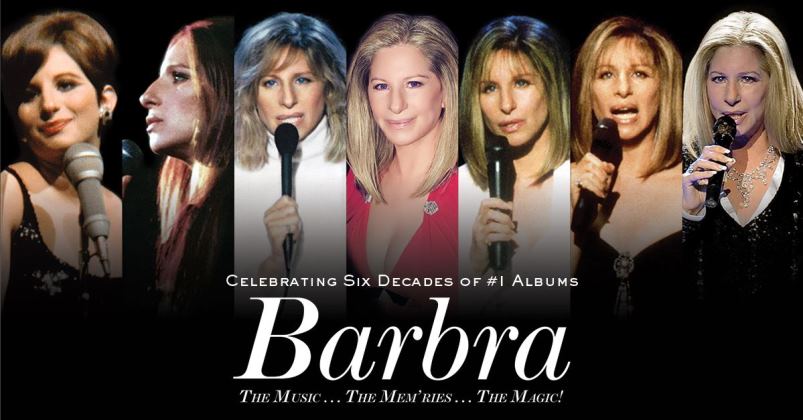 Toronto, August 23rd, 2016 at The Air Canada Centre
10 Maple Leafs out of 10 it doesn't get much better than this!













I have to admit, last night's show was my first time seeing Barbra Streisand. I was not sure what to expect, she is a legend, you have to believe that the show was bound to be good. Good, does not quite cut it, at 74, she is still commands an audience. She held the sold-out crowd at the Air Canada Centre captive from start-to-finish!

As the giant sized video screen opened in the middle, Barbra entered from the opening and walked to the front of the stage while the overture for People played, as she reached the front of the stage she joked, "Let's save the best song for first" breaking into the classic, "The Way We Were". Keeping in line with the tour theme, the first set continued with songs from her number one albums, albums spread over six decades! Six decades having at least one number one album, no one else has ever acheived this!

It did not take long for me to realize just how talented Barbra Streisand is, the first song actually! What a voice, to hear her sing live, incredible. She makes it look effortless, the range, the control, and for you young vocalists, articulation! You can clearly understand every word she is singing!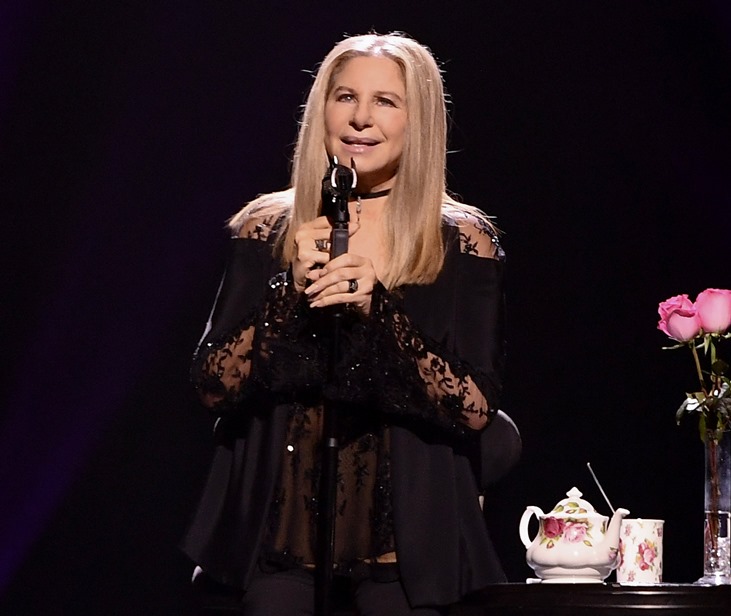 Photo by George Pimentel/WireImage for BSB



Perhaps it is her acting background that makes her feel at ease speaking to an audience. I was impressed with her ability to switch between storytelling and singing. Often providing excellent background on the song she was about to perform but sometimes they strayed a little even getting a little political!

One such story started off indicating how much she loved Canada and was happy to be back in Toronto. This was the last show in her mini nine show tour so she had time to go shopping. At one of the stores as she went to pay the store keeper said to her, "You are American do you have any loonies?" to which she replied, "Just one… Donald Trump!"

The tempo picked up after one of my favourite songs, "You Don't Bring Me Flowers" with "Woman in Love" written by Barry and Robin Gibb and "Enough is Enough" a disco song that she did with the late Donna Summers.

Despite the fact that Barbra's long time manager negotiated her having complete control over all of her projects she pointed out a couple of examples, the first which I do believe still upsets her today. On her version of "The Way We Were" album cover there is a close-up of her, the picture is displayed on the video screen behind her. Then the album cover pops up, the record company has replaced her nose with someone else's, the bump as she refers to it is gone. "Me and that bump have been through a lot together," she said.

Barbra also picked the cover for the "People" album. She had been doing a photo shot for a magazine and really liked the picture of her on the beach with her back towards the camera. The record company did not want to use it but she insisted. The album cover won a Grammy award!

Barbra Mentioned that the Apple "Siri" application pronounces her name wrong, so she called the CEO of apple, Tim Cook to see if anything could be done to correct this, look for this to be corrected in an upcoming update!

Barbra closed out the first set or act with a terrific rendition of "Papa , Can You Here Me" from Yentl.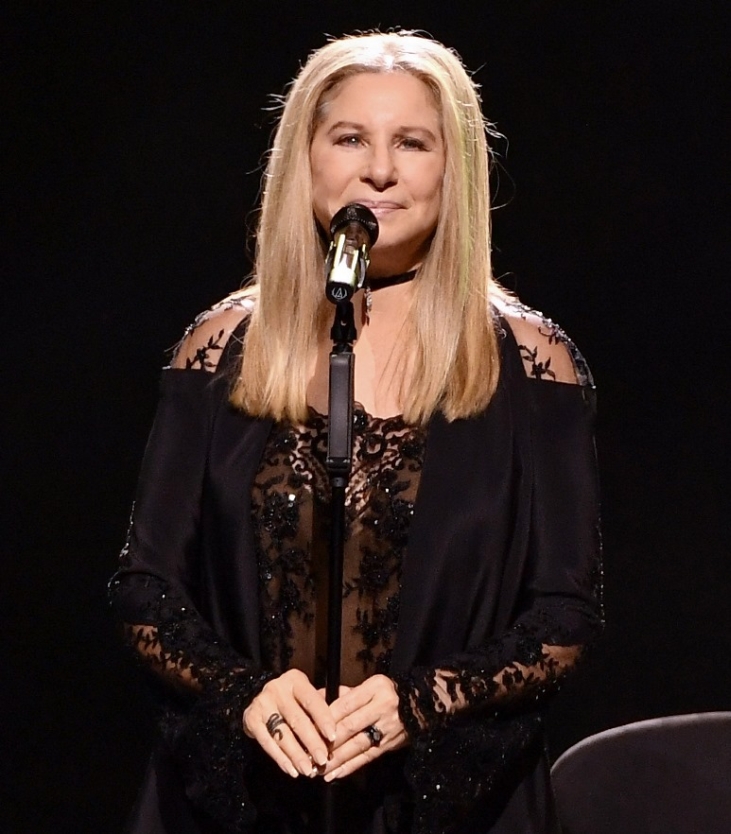 Photo by George Pimentel/WireImage for BSB



In the second set Barbra did songs from her upcoming album, encore. This album features songs from Broadway with Barbra doing duets with special guests. One of my favourites utilized the video screen as Barbra performed "Who Can I Turn To" with the late Anthony Newley utilizing video from his original performance of the song on Broadway.

The classic tug boat scene from Funny Girl played on the video screen during Barbra's performance of "Don't Rain on my Parade". The show closed out with another classic, "People" and "Happy Days" which Barbra pointed out she had sang for three Presidents including Bill Clinton and hoped to be singing to a fourth President and another Clinton shortly.

I received a lot of quotes that night after the show, "Fabulous, Fantastic, absolutely amazing…" but the best story came from the older lady sitting next to me when I asked her when she became a Barbra fan:

"I can tell you the exact date and where!" She was walking on Yonge Street on a dark, damp cold night when she saw a TV in the window of an electronics shop, "My Name is Barbra" was playing. She stopped and watched the whole show even though she knew should would get in trouble for being late, the date, April 28, 1965!

She was the first one standing and applauding after every song that night!


The Musicians - 10 out 10 Maple Leafs

When your one of the best performers around and have been for six decades, you are going to draw top level musicians to perform with you. The band was spot on, they did not miss anything! Soft and in the background when reaquired, up front and more forceful when the song required it.
Randy Waldman: Music Director/Piano
Mike O'Neill: Guitar
Carlitos Del Puerto: Bass
Dave Tull: Drums
Che Che Alara: Keyboards
Rich Ruttenberg: Keyboards
David Witham: Keyboards
Brandon Fielss: Woodwinds
Norm Freeman: Percussion
Christian Hebel: Violin
Stevvi Alexander: Vocalist
Andrea Jones: Vocalist
Amy Keys: Vocalist
Special Thank You to Caryn Leeds at Sunshine Sachs for the list of musicians supporting Barbra on this tour.


THE SET LIST

ACT I
PEOPLE Overture
THE WAY WE WERE
EVERYTHING
BEING AT WAR WITH EACH OTHER
YOU DON'T BRING ME FLOWERS
WOMAN IN LOVE/ENOUGH IS ENOUGH
EVERGREEN
WITH ONE MORE LOOK AT YOU
BEING ALIVE
PAPA, CAN YOU HEAR ME?
ACT II
ON A CLEAR DAY Entr'acte
PURE IMAGINATION
WHO CAN I TURN TO?
LOSING MY MIND
ISN'T THIS BETTER?/HOW LUCKY CAN YOU GET?
CHILDREN WILL LISTEN
DON'T RAIN ON MY PARADE
MY MAN
PEOPLE
HAPPY DAYS
ENCORE: I DIDN'T KNOW WHAT TIME IT WAS
Special Thank You to Caryn Leeds at Sunshine Sachs for the official running (set) list.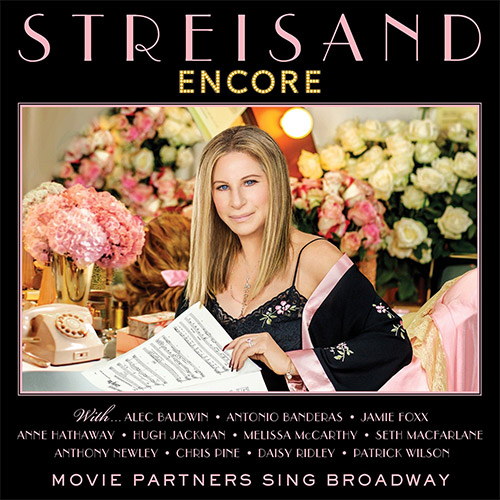 Encore: Movie Partners Sing Broadway
Anne Hathaway - Daisy Ridley - Patrick Wilson - Anthony Newley - Alec Baldwin - Hugh Jackman
Melissa McCarthy - Seth MacFarlane - Antonio Banderas - Chris Pine - Jamie Foxx

Barbra's latest album has her performing duets ofBroadway songs with some very special guests.

My sincere gratitude to Caryn Leeds and Georgia Parent at Sunshine Sachs for the opportunity to review Barbra's show!



TAGS #BABSTORONTO #BARBRASTREISANDTORONTO